Pamper them with the perfect holiday gift and save BIG on the iYURA Day and Night Set from

The Ayurveda Experience.
The holiday season has officially begun and the stores are buzzing with festive music, decadent treats and gift items galore. Jolly spirits are soaring and lots of parties and family get-togethers are planned. We usually arrive with a gift in tow, but this year consider giving the gift of wellness.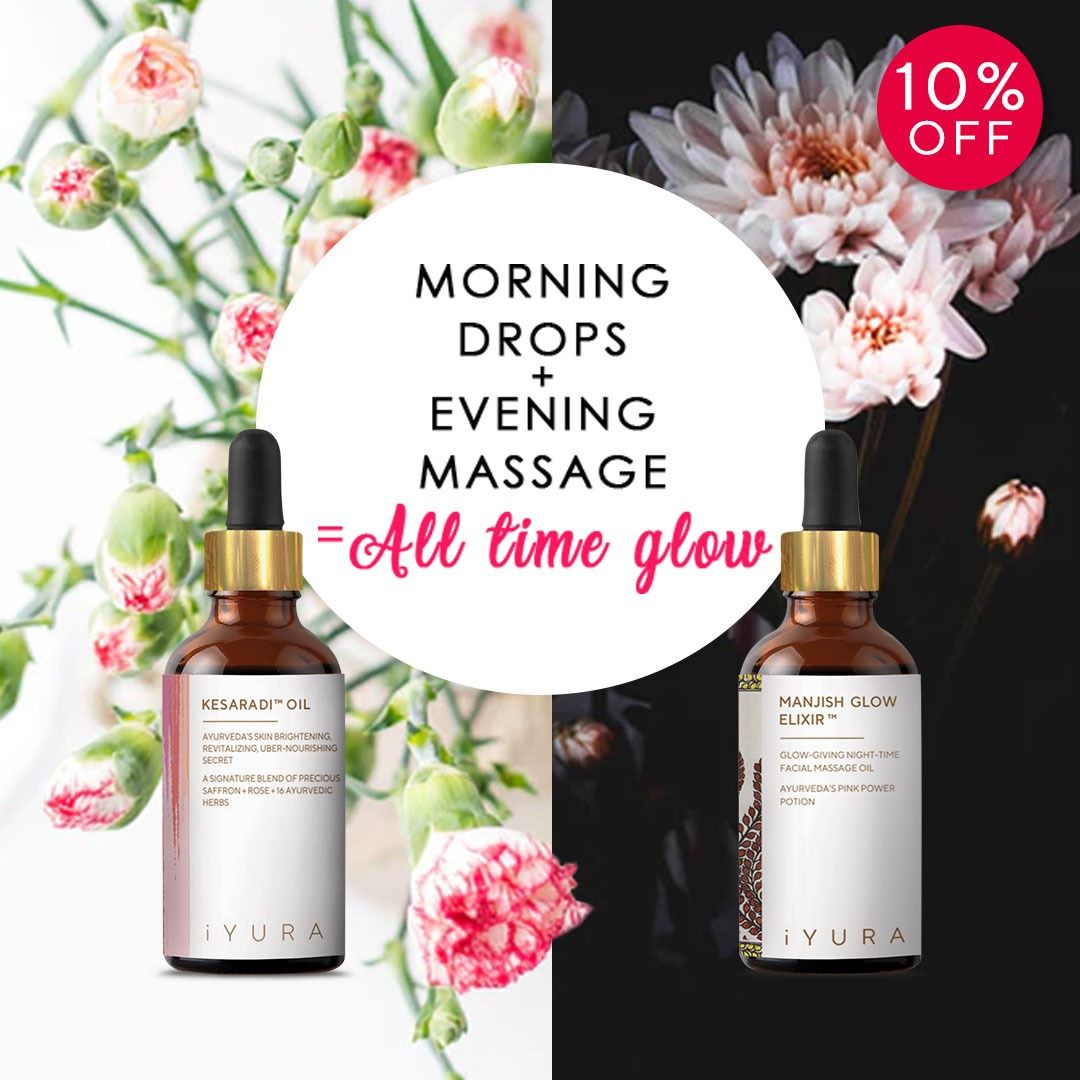 Use Code: PAW10 to an additional 10% off.
• A Brightened, Revitalized, Uber-Nourished Look
• A Gold-Like Illuminated Complexion
• Beauty That Makes Aging Skin Shy Away
• A delightful way to indulge in the Bewildering Magic Of 'Red Gold', The Nurture Of The 'Queen Of Flowers' And The Impressive Power Of The 'Golden Spice'
iYURA Kesaradi Oil
Ayurveda's Brightening, Revitalizing, Uber-Nourishing Secret. Brighten your look with a natural glow through the complexion boosting properties of the world's most expensive spice! In just 3 drops every morning, experience results that no face creme can give you…  Made from a Signature Blend of Precious Saffron + Rose + Turmeric and 16 Powerful Ayurvedic Ingredients. Just 3 drops every morning to rejuvenate your look with a combination of herbs and exotic flowers you might have never seen or heard of before!
iYURA Manjish Glow Elixir
Glow-Giving and Complexion Restoring Night Facial Massage Oil. Ayurveda's Pink Power Potion – known for imparting a metaphorical gold-like, glowing complexion. 4 drops, 5 minutes, every night – and you won't want make-up! With no added fragrance, this herbal oil contains highly effective ingredients like Indian Madder or Manjishtha, Butter Tree or Mahua, Lemon or Jambheer and Shellac or Lakh amongst other well-known ingredients like Licorice, Cow Milk and Sesame Oil.  Using 4 drops of Manjish Glow Elixir to massage the face for 5 minutes for a minimum of 7 consecutive nights will make you see a noticeable change in your skin! 
Use Code: PAW10 to an additional 10% off.
Wellness and self-care gifts are becoming more and more popular. Giving gift products made from organic, natural and clean ingredients says you really care!
Disclaimer: This post contains affiliate links.